Video Games and Sleep
Do you ever wonder why your kids are tired and grumpy in the morning? Maybe they are spending too much time on a video game. More and more research is coming out about how detrimental screen time can be for your kids. Some interesting new research is coming out about how video games, especially violent video games can affect the way your child develops and thinks about social situations, compassion, and acceptance of others. Specifically, this article explains how video games can disrupt sleep and make your child grumpy, tired, and unable to cope with daily stressors life presents. I am not suggesting that kids entirely be banned from screen time, but you may want to place limitations and boundaries, including when and how much. A good indicator if your child has spent too much time on a screen is io you call him or her away and he or she comes happily and  willingly. If they refuse, get angry or upset - they've likely spent too much time on a screen.
School News
Sigmund Brouwer in the DDS House!
Posted on

October 20th, 2015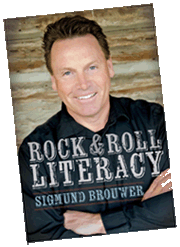 We are so excited to have Sigmund Brouwer joining us on Tues., Oct. 27. He is an Albertan author who has written some pretty cool books for kids. Check out his website here:
Also watch this video called Rock the Boat
https://www.youtube.com/watch?v=-LVGEPAj9Kc
Biography:
Sigmund Brouwer was born and raised in Red Deer, Alberta, and he and his family split their time between Red Deer and the Nashville, TN area.
With over four million books in print, Sigmund Brouwer is a bestselling author of both children and adults books. His recent novel, Dead Man's Switch, is the winner of the 2015 Arthur Ellis Award for Canada's best young adult mystery of the year and a 2015 finalist in the TD Children's Book Awards. His current novel for grownups, Thief of Glory was selected as the 2015 Book of the Year for the American Christy Awards and is the 2015 winner of the Alberta's Readers Choice Awards.