Video Games and Sleep
Do you ever wonder why your kids are tired and grumpy in the morning? Maybe they are spending too much time on a video game. More and more research is coming out about how detrimental screen time can be for your kids. Some interesting new research is coming out about how video games, especially violent video games can affect the way your child develops and thinks about social situations, compassion, and acceptance of others. Specifically, this article explains how video games can disrupt sleep and make your child grumpy, tired, and unable to cope with daily stressors life presents. I am not suggesting that kids entirely be banned from screen time, but you may want to place limitations and boundaries, including when and how much. A good indicator if your child has spent too much time on a screen is io you call him or her away and he or she comes happily and  willingly. If they refuse, get angry or upset - they've likely spent too much time on a screen.
School News
Holiday Raffle
Posted on

December 9th, 2015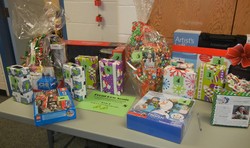 DDS Home and School Council is having a Student Raffle to raise funds for DDS. Tickets will be sold at lunch today through to Wed., Dec. 16. Draws will be made at the DDS turkey dinner at 12:00 noon on Thur., Dec. 17.
Tickets are $1.00 each.
Many prizes are available including front row tickets to the Christmas Concert*, a Lego set, a haircare basket, a toy Case combine tractor, an Olaf snowman building kit, and a candy basket, among other neat prizes.
(*This set of front row seats will be drawn on Tues. Dec. 15 at 12:00 noon. The winning family will be notified then.)
Hope to see you participate and thank you for your support!