WELCOME CHRIS KOCH!
Dorothy Dalgliesh School and the PSBSPB is honored and excited to welcome inspirational speaker, Chris Koch!
Mr. Koch will be presenting in the DDS gym on:
Thursday, September 21

9:00-10:00 am for grades 4-6
10:45-11:15 am for grades K-3
While Mr. Koch has presented worldwide, and even been on the Oprah Winfrey Show, his roots are humble. Mr. Koch was born in Lethbridge and raised on a farm in Nanton.
While born with no arms or legs, his family refused to treat him with any pity or sympathy – they treated his disability by making the best of it. "After all," Chris says, "I still have a good head on my shoulders."
His message is based on his philosophy of "If I Can…" He speaks to not letting obstacles or limitations stand in his way, and how important it is to challenge yourself. Simply put, he says, "If I can do the things I have done so far in my life, what is stopping anyone else from doing the same?"
A HUGE thank you to the Public Schools Betterment Society of Picture Butte for sponsoring a large part of Mr. Koch's costs.
School News
New Bus Status is Here!
Posted on

November 27th, 2015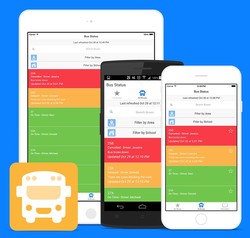 The time has come, Dorothy Dalgliesh School Bus Status users!
The new and improved Bus Status is available Friday, November 28, 2015.
In case you missed our first announcement, the new Bus Status features:
Sleek, modern design enjoyable through the web, iPhone, and Android.
4X faster processing time.
Speedier push notification system, letting you know about delays and cancellations quicker.
(Insert name of school/school district) information screen allowing you to access inclement weather policies, contact information, and general regulations with just a tap.
Important
Users must "star" buses they wish to receive push notifications for once they have upgraded. Previously favourited buses in the old version will not be saved.
The new Bus Status will send out a push notification on Sunday, November 29 to remind users to "star" their buses before the new school week begins.