WELCOME CHRIS KOCH!
Dorothy Dalgliesh School and the PSBSPB is honored and excited to welcome inspirational speaker, Chris Koch!
Mr. Koch will be presenting in the DDS gym on:
Thursday, September 21

9:00-10:00 am for grades 4-6
10:45-11:15 am for grades K-3
While Mr. Koch has presented worldwide, and even been on the Oprah Winfrey Show, his roots are humble. Mr. Koch was born in Lethbridge and raised on a farm in Nanton.
While born with no arms or legs, his family refused to treat him with any pity or sympathy – they treated his disability by making the best of it. "After all," Chris says, "I still have a good head on my shoulders."
His message is based on his philosophy of "If I Can…" He speaks to not letting obstacles or limitations stand in his way, and how important it is to challenge yourself. Simply put, he says, "If I can do the things I have done so far in my life, what is stopping anyone else from doing the same?"
A HUGE thank you to the Public Schools Betterment Society of Picture Butte for sponsoring a large part of Mr. Koch's costs.
School News
Fort McMurray firefighter Nathan Gilchrist visits Dorothy Dalgliesh School
Posted on

May 11th, 2016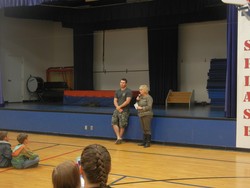 An exhausted but brave, Nathan Gilchrist stopped in to visit his nephew, Gavin, at Dorothy Dalgliesh School on Wednesday, May 11, 2016. As a child Nathan attended Dorothy Dalgliesh School but for the past six years has resided in Fort McMurray. 
When the devastating wildfires began in Fort McMurray, Nathan was on a team of firefighters battling the blaze. At one point his own house was threatened, and his family had to be evacuated. Once he was certain they had safely made it to Edmonton, Nathan returned to fighting the blaze.
Visibly shaken by his experiences, Nathan spoke to DDS students and staff about how quickly the fire moved, and how little time people had to evacuate. Nathan used the analogy of the movie Frozen which most, if not all children have seen. He stated that if the Fort Mac fire had started at the west edge of Picture Butte, by the time the movie Frozen was over, the entire town would have gone up in flames.
As students practice compassion, Nathan brings a real-life connection to how important it is to help out our Fort McMurray "neighbors." Monetary donations for the Red Cross will continue to be accepted until the end of next week at the DDS office.
In Picture Butte visiting family on a short 2-day leave, Nathan returns to his firefighting duties tomorrow. We wish Nathan and his wife, Amy,  and family all the best.