WELCOME CHRIS KOCH!
Dorothy Dalgliesh School and the PSBSPB is honored and excited to welcome inspirational speaker, Chris Koch!
Mr. Koch will be presenting in the DDS gym on:
Thursday, September 21

9:00-10:00 am for grades 4-6
10:45-11:15 am for grades K-3
While Mr. Koch has presented worldwide, and even been on the Oprah Winfrey Show, his roots are humble. Mr. Koch was born in Lethbridge and raised on a farm in Nanton.
While born with no arms or legs, his family refused to treat him with any pity or sympathy – they treated his disability by making the best of it. "After all," Chris says, "I still have a good head on my shoulders."
His message is based on his philosophy of "If I Can…" He speaks to not letting obstacles or limitations stand in his way, and how important it is to challenge yourself. Simply put, he says, "If I can do the things I have done so far in my life, what is stopping anyone else from doing the same?"
A HUGE thank you to the Public Schools Betterment Society of Picture Butte for sponsoring a large part of Mr. Koch's costs.
School News
Dorothy Dalgliesh School wraps up the week with our Christmas Concert, Sock Hop, Community Christmas Delivery and a great Christmas dinner for the staff and students.
Posted on

December 22nd, 2016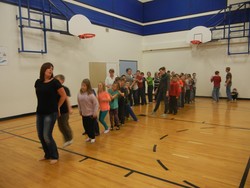 After presenting the best Christmas Concert ever we just kept on rocking onto Wednesday with a Sock Hop in the gym. Thanks to everyone for donating socks to the annual Sock It To 'Em campaign. With your help we donated over 110 pairs of socks to help make someone's Christmas a little bit warmer!
Thursday morning Dorothy Dalgliesh School shared some Christmas wishes with our community by visiting residents home and leaving a "little something" on their doorknobs. Merry Christmas from Dorothy Dalgliesh!
At noon a hot turkey dinner with all the trimmings was served to all students and staff at Dorothy Dalgliesh School. It was delicious and everyone loved it! Thanks to our School Council mom's and all those who volunteered by helping in the kitchen and donating food items.